View Inventory

Vehicle Overview
The answer to "Why buy a 2019 GMC Canyon in Pueblo" is that this powerful truck is loaded with a number of features you would both expect and be pleasantly surprised by. These begin with the fully redesigned body that makes the pickup stand out compared to similar vehicles in its class and go all the way through to the various powertrain options that let you select the power needed for your driving needs. For more information about purchasing this truck today, please contact our team at Wilcoxson GMC, serving Pueblo Canyon City Colorado City.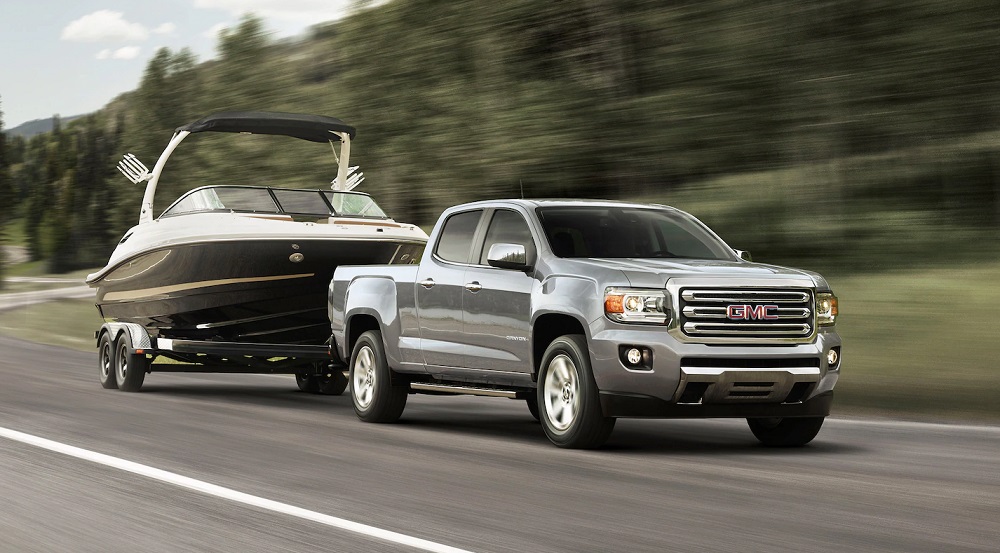 Exterior - 2019 GMC Canyon
The 2019 GMC Canyon measures a full 19 feet from front to back, meaning this mid-size pickup is actually quite a long and hefty beast. It comes in various trim options, including: SL, Canyon, SLE, All-Terrain, SLT, and Denali. The entry level is purely functional, while the trims towards the end of the scale are purely luxurious. Beyond the available trims, there is also an assortment of size options on these trucks. You can choose either an extended body or crew body. This means you can have a bed at a range starting from 5 feet and 2 inches all the way to 6 feet and 2 inches long. The tall grille upfront gives this truck a unique and fully-realized look. It's offset by the headlights in a full rectangular shape and straight wheel arches. It is also quite sporty, thanks to the high belt line that rises along the truck. Both versions of this truck feature four doors, two on each side. On the crew-cab body, you'll find four full-sized doors. On the extended cab, the rear doors are half-sized.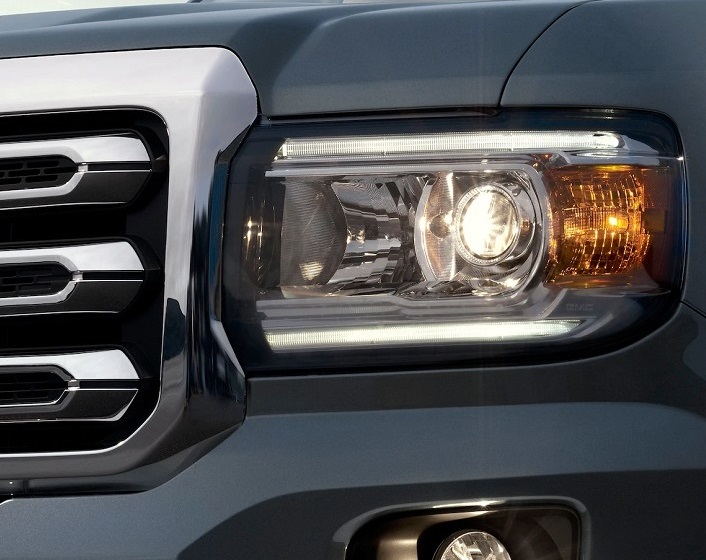 Interior - 2019 GMC Canyon
Although the rear seating for most trims is a bit smaller than similar trucks in this size and works best for most pickup drivers in adding extra storage space for tools or smaller materials, the seating up front is quite comfortable, even for larger drivers. On the crew cab model, you can expect to sit more comfortably in the back row of seats, however. On the Canyon and SLE trims, you'll find comfortable cloth upholstery, while there is full leather seating in the upgraded trims of SLT and Denali. The driver seat on all trims comes standard as a power seat. In short, the interior is well designed across all body types and trim options, offering comfort, luxury, and functionality.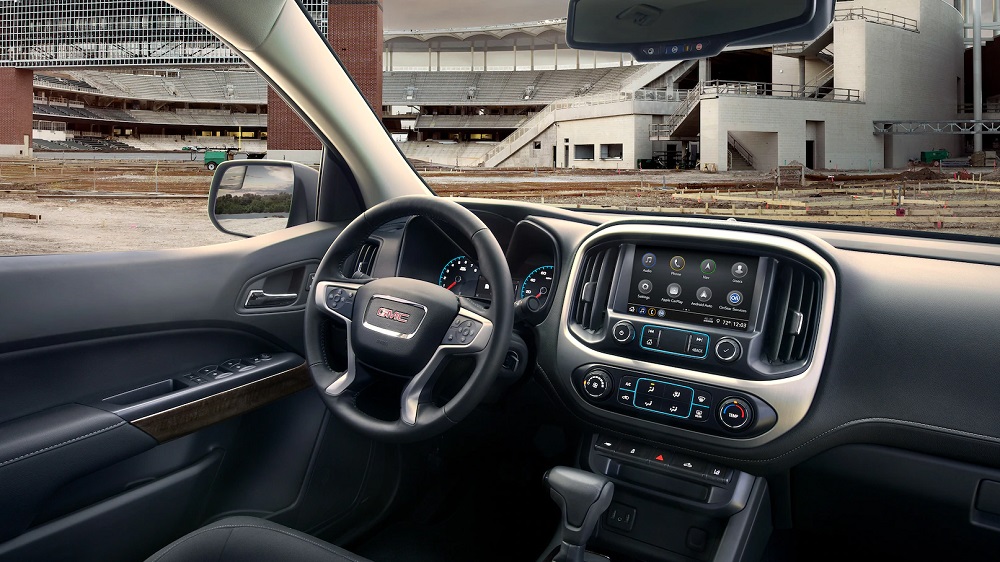 The standard SL trim offers a 7-inch infotainment screen that is compatible with both Apple CarPlay and Android Auto. For the SLE trims and above, this screen is upgraded to 8 inches, and also feature an optional navigation system, a steering wheel wrapped in leather, optional heated seats, skid plates, and much more. For more information about which trim fits your needs and what you can expect inside the truck, contact our friendly sales staff serving Pueblo Canyon City Colorado City.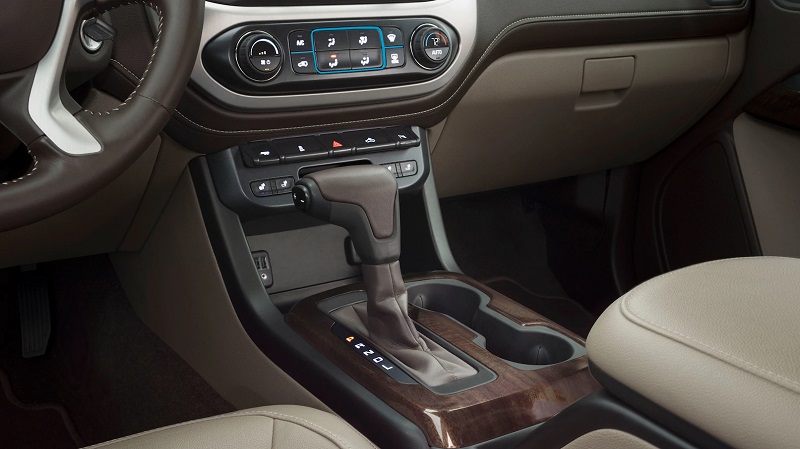 Mechanical - GMC Canyon specs in Pueblo CO
Towing is the name of the game for most pickup drivers, and possible buyers of this year's GMC Canyon will not be disappointed by the truck's performance. On the gas V6 powertrain (outlined below), you can expect a towing capacity upwards of 7,000 pounds. For the diesel offering, 7,700 pounds can be expected. All powertrain options are highlighted in the following section and they are all solid in terms of fuel economy ratings. The base engine can provide a total of 20 miles per gallon, with 26 mpg on the highway and 22 mpg combined. For the four-wheel drive and automatic transmission variety, the figures can be estimated at around 19 mpg, 24 mpg, and 21 mpg, respectively.
Powertrain - GMC Canyon specs in Pueblo CO
As with most trucks in this class, there is a wide range of powertrain options available, depending on the driver's needs of power and towing capacity. The base engine is a 2.5-liter inline-4 cylinder which produces 200 horsepower and 191 pound-feet of torque, paired to a 6-speed manual transmission and rear-wheel drive (RWD). You can upgrade to a 3.6-liter V6 engine that produces a significant power increase of 308 horsepower and 275 pound-feet of torque, tied to an 8-speed automatic transmission. This is the recommended engine for most users, in terms of balancing power and fuel economy. The final powertrain option is a 2.8-liter turbocharged diesel inline-4. This engine produces 186 horsepower and a stellar toque figure of 369 pound-feet.
Safety - 2019 GMC Canyon dealer
Every Canyon trim and body type comes standard with six airbags, anti-lock brakes, and a rearview camera for parking and driving assistance. You can opt for the upgraded Driver Alert Package on the SLE and SLT trims (it comes standard on the Denali) which features forward-collision warnings and lane-departure warnings to prevent accidents and keep you where you want to be on the road. The crash rating for this truck earned high praise from the NHTSA for its durability in the event of accidents. This truck gives you what you need to keep you and your load safe in nearly any situation, so you should feel comfortable when you sit behind the wheel.
Why Buy a 2019 GMC Canyon in Pueblo at Wilcoxson GMC
The 2019 GMC Canyon is a sight to behold. Buying a 2019 GMC Canyon in Pueblo could not be easier at Wilcoxson GMC. Our expert team serving Pueblo Canyon City Colorado City will help you change the question from "why buy" to "why not buy now."